ArtNet (DMX) LAN Processor DIN-RAIL
ArtNet Processor 4 Universe, fully compatible with the nexgentec ArtNet driver framework for Control4. See below for driver details
Provides 4 DMX lines output to drive 4 x 512 addresses.
More details in the C4 driver documentation
Part number NGT-HLCO4-ART-4UV1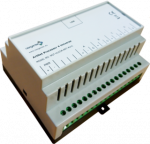 ArtNet Processor 4 Universe Software (IP address and universe settings)
eDMX_Configuration
---
DMX 8 Channel relays with 8 floating switching outputs
DMX-Relays-Interface with 8 floating switching outputs (Close)
8 Channels, each 4A/250VAC (DIN RAIL)
Part number: NGT-HLCO4-DMX-RL8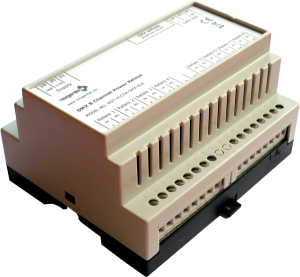 Manual (DE)
ngt-hlco4-dmx-rl8-de
---
DMX relays with 4 reciprocally locked channels
The DMX-Relays-Interface features 4×2 locked outputs. The lock is only software based, on this combined channels: 1&2, 3&4, 5&6, 7&8
4 x 2 channels, each 4A/250VAC (DIN RAIL
Part number: NGT-HLCO4-DMX-BL4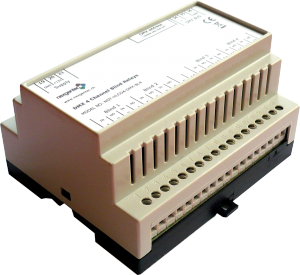 Manual (DE)
ngt-hlco4-dmx-bl4_de
---
Legacy hardware
DMX 4 channel universal dimmer (not sold anymore)
The 4-way universal dimmer is suitable for all conventional dimmable types. There are 4 separate dimmer inputs and outputs that can be loaded with 570W each. The control circuits automatically detect the connected load and switch itself automatically to the forward or reverse phase dimming technology and control of  light output using the best suitable control characteristic (Vrms).
Using DIP switches the optimal dimming type can be specified manually if the load type is known.
Suitable for control of light bulbs , LED retrofit lamps and incandescent lamps, high-voltage halogen lamps, low-voltage halogen lamps with magnetic and electronic transformers.
With a emergency button input, all outputs can be set to 100%.
Part number: NGT-HLCO4-DMX-UDK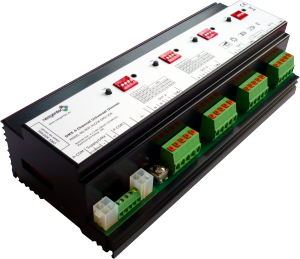 Manuals (DE)
NGT-HLCO4-DMX-UDK-DE
UDK_Addressing
---
DMX relays with 2 changer relays (not sold anymore)
The DMX-Relays-Interface features 2 outputs (changers) and supports 2 different operating modes.
Standard 2 channel Relays interface: 2 independent outputs
Blind-Control: 2 reciprocally

locked

outputs.
Part number: NGT-HLCO4-DMX-RL2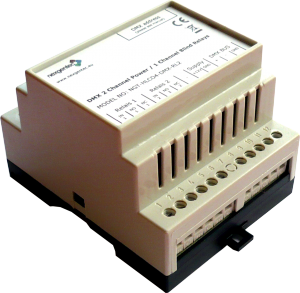 Manuals (DE)
ngt-hlco4-dmx-rl2-de
blind_cabling_with_2_changer_relays
---
DMX DSI/DALI 8 channel (not sold anymore)
Using this DMX-DSI/DALI-Interface 8 DALI- or DSI- compatible electronic ballasts (EVG) or groups or ballasts can be controlled
8 DSI/DALI Outputs (Broadcast)
Part number: NGT-HLCO4-DMX-DL8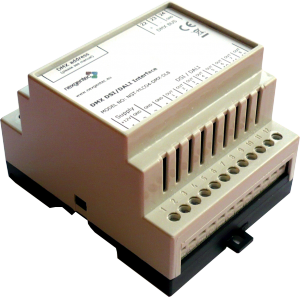 Manual (DE)
NGT-HLCO4-DMX-DL8-DE
---
Previous DMX Processors (not sold anymore)
If you experience issues by finding the processor on the network or set to another fix IP address, please use for windows the ip_configurator from the OEM manufacturer DMX4All. http://www.dmx4all.de/download/software/ip_configurator.zip
Alternatively for Android install the Art-Net IP Configurator  App from DMX4All
https://play.google.com/store/apps/details?id=dmx4all.artnetipconfigurator&hl=en
For all DMX DInRail modules xxxDMXDINV10 modules a firmware update is available.
NGTHGC04DMXDINV10-IP-Lost-fix (login needed)
---
ArtNet drivers for Control4
Important notice: The nexgentec DMX line was renamed to nexgentec ArtNet line. All ever sold nexgentec processors are compatible with the ArtNet drivers. The use version 5 drivers is highly recommended

Version 5 ArtNet drivers, see here
Driver archive
Version 4 ArtNet drivers (deprecated):
All ArtNet drivers are compatible with all nexgentec ArtNet DMX LAN processors and the following 3rd party ArtNet devices from DMX4All: http://www.dmx4all.de/index.html


ArtNet-LED-Dimmer 4R
ArtNet-LED-Dimmer 6R
ArtNet-DMX STAGE-PROFI 1.1
Setup manuals: (login needed)
controller_ArtNet_Network_nexgentec_documentation
blind_ArtNet_Network_nexgentec_documentation
relay_ArtNet_Network_nexgentec_documentation
dimmer_ArtNet_Network_nexgentec_documentation
switch_ArtNet_Network_nexgentec_documentation
Driver files: (login needed)
controller_ArtNet_Network_nexgentec
blind_ArtNet_Network_nexgentec
relay_ArtNet_Network_nexgentec
dimmer_ArtNet_Network_nexgentec
switch_ArtNet_Network_nexgentec
Legacy version 3 drivers (not supported anymore)

Complete driver package version 3: (login needed)
nexgentec_DMXLine_V3.00.035_drivers_and_doc
(Network driver version 3.00.035, dimmer and switch drivers  version 3.00.012. Fixed long-term issue with  PersistData)  Update to this version is highly recommended!