Control4's doorstation solution has a big lack, it does not support multi dwelling houses which are very regular in Europe.
Koch provides the multi dwelling door intercom system TC-Bus which can support up to 115 members.
For each to TC-Bus connected C4 system a SIP gateway is needed, if the TC-Bus has less than 10 members the FBI6101 module should be used. Above the FBI6100 is suitable. To open the door a BRE2/SG module needs to be purchased, it connects from a C4 relay to the TC-Bus and sends the DTMF 7 when the relay is closed, the door opens. (Mention on order that is should send DTMF 7)
Limitations:
There is no way to call out, from panel to the doorstation
Only audio is supported, video can be inserted via webcam (which is mounted in the TC_Bus doorstation anyway) and a pageflip on the C4 touchpanel
Setup:
Login to the Koch SIP gateway default ip 192.168.1.200, password 1234
Setup the phone-book that  it rings to the intercom group 123: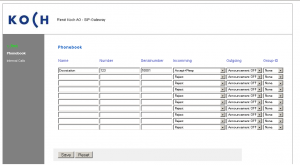 Save it!
On C4, create a intercom group 123, assign all panels to the group.
Insert a "3rd party SIP phone" driver and set username and password (numbers only), insert the same credentials in the SIP gateway: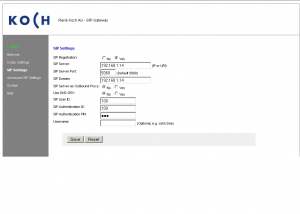 Save everything and try!
Opening the door can be done via "Custom Button".
The driver for the dorstation webcam can be found in my other post about Koch:
https://technet.genesis-technologies.ch/koch-doorstation-compatible-with-control4/
Create a bookmark on your touchpanel for the webcam and have it called when the intercom session is accepted. Then you can speak and see the person outside.
International dealers may please contact Koch for sales directly:
http://www.kochag.ch/de/home.html